Lami Phillips, the daughter of Olumide Phillips has been drawn into Dowen College saga.
Truetells Nigeria reports that who is the owner of dowen college Lagos has been trending since Sylvester Oromoni, a student of Dowen College, Lekki, Lagos, died from injuries he allegedly sustained from the beating by his colleagues that wanted him to join their secret cult group.
This online news platform understands that the unfortunate incident that occurred in the opulent Dowen College where 12-year-old Sylvester Oromoni Junior was reportedly beaten to death for refusing to join a cult group in Dowen College, Lekki Phase One, Lagos is the most discussed subject on social media at the moment especially Nigerian Twitter.
Truetells Nigeria reports that the unpalatable news of Sylvester Oromoni death had since led to the closure of Dowen College by Lagos State Government pending the conclusion of their investigation.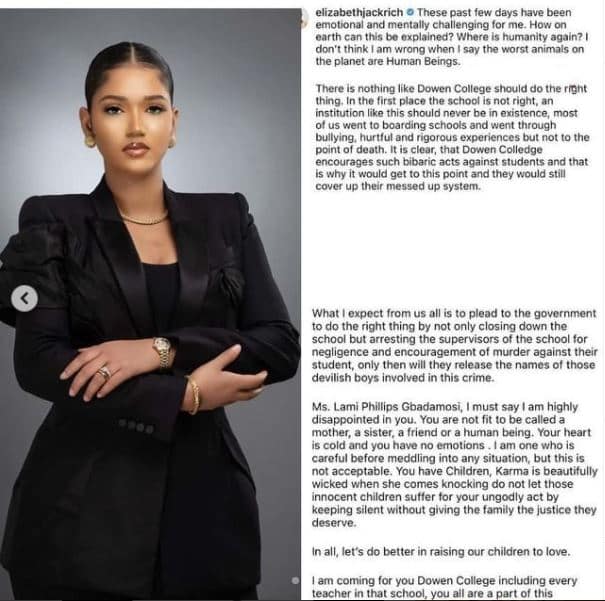 google.com, pub-3010621105019820, DIRECT, f08c47fec0942fa0
Though several celebrities had taken to their social media platforms to seek justice for Sylvester, some have, however, remained noticeably mute on the matter raising cause for concern.
Truetells Nigeria  understands that some celebrities have deliberately ignored the campaign which centers on justice for Sylvester Orommoni given their relationship with a colleagues whose parents own Dowen College.
Dowen College, according findings by this newspaper, is owned by parents of female singer, Lami Phillips who until date is Director of Students and External Affairs.
Truetells Nigeria  reports that the likes of Nigerian singers, Omawunmi, Tiwa Savage and others are among female celebrities who have remained mute even as the campaign for justice for young Sylvester Oromoni
continues to gather momentum.
A furious music executive, Ubi Frankline called out his colleagues who refused to post about the painful death of young Oromini, adding that their actions were targeted at covering up for one of theirs who owns the school.